External Sounds are bringing a piece of the Big Apple to The Purple Room on Saturday March 7th, in the form New York's Dj Shakey and Barney Iller. Dj Shakey aka Julie Covello, is part of New York City's dj elite and has spun at virtually every metro area nightclub that contributes to the culture. She created and directs "Shakey's Record Fair", the "Warper Party" (NY's largest monthly electronic music showcase), and the world reknown clothing swap "Thrift On!". She has written about music and more for Wax Poetics, Sweet Action, and Bust magazines. She also has a legendary record collection, performs with her bass and laptop duo "FreebassBK", and volunteers to teach young women to dj at the Willie Mae Rock Camp for Girls.
DJ Barney Iller specializes in the funky side of things, from vintage soul and funk, to breakbeat, glitch bass, jungle & dubstep, and beyond. He has played at top venues, lowly dives, and underground lofts throughout the U.S., Europe, and Japan. Check out his productions and mixes at his site below.
http://www.djshakey.com
http://www.myspace.com/julesakadjshakey
http://www.barneyiller.com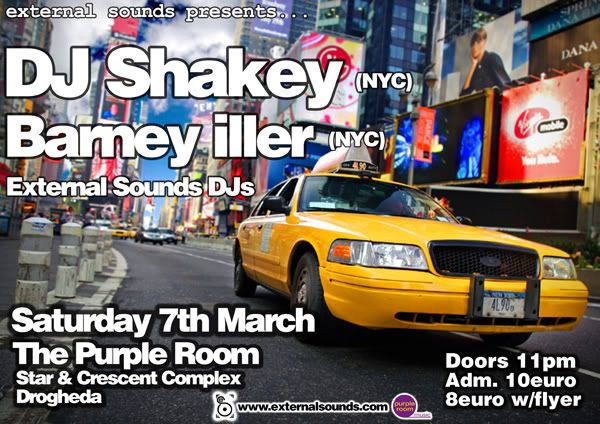 At this time of year most people are taking it easy and trying to repent for their overindulgence's at Christmas. Having no regard for such sentiment, External Sounds are serving up another fat helping of our monthly club night in The Purple Room on Saturday 7th of February. After Dj Andy Smith's brilliant performance on New Years Eve, we want to keep the standard high for the following gig. We think this has definitely been archived with dj sets from Prime Numbers & Firecrackers 'Fudge Fingas' & 'House of Traps'.
Fudge Fingas & House of Traps are at the forefront of the music genre tagged 'Detroit House'. This genre is proving more and and more popular in the underground club scene at the moment with artist such as Trus'me and Motor city Drum Ensemble making big breakthroughs with this sound in the past year.