Over the past couple of years External Sounds has seen out the old and brought in the new year with a big festive knees-up. This year is no different. We have put together a party with an artist line-up that is sure to make for another unforgettable night in The Purple Room. We have aquired the services of renowned international dj Andy Smith. One of Ireland's finest eclectic djs in the form of Bodytonics Tom Beary, and not to mention Drogheda musical legend Paddy Connor. We will also have a second room on the night that will be hosted by 4Play.
This is a ticket only event. Tickets go on sale at our next External Sounds night on Saturday 6th of December @ The Purple room and are priced at 15 euros per ticket. Tickets will be available after that from the The Star & Crescent Bar.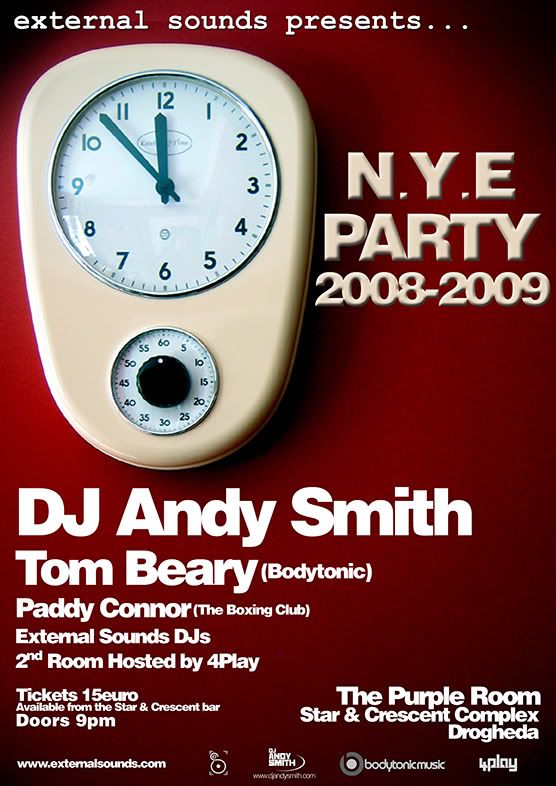 External Sounds are pleased to announce that soul boy Stee Downes along with his 7 piece band will be performing at our December gig. Stee has been involved in music from a young age playing bass, guitar and keys. After completing his studies in 2002, he left Dublin for the Netherlands where he was intent on pursuing his musical path. While in Amsterdam he began to focus his attention on writing and production. London based outfit "Loose Ensemble" got their hands on one of his demo's and asked him to feature on two tracks for their "Catalyst EP" which was released on Foundation records. Inspired by the positive reaction Stee was determined to develop his vocal talents, combined with song writing to create a unique sound. He began to build his repertoire and put together a live show, later supporting Amp Fiddler, Bugz in the attic and Money Mark in 2006.
Stee has also being djing for over ten years. Stee credits much of his influence to Soul, Jazz, Funk and Latin music hailing artists such as Donny Hathaway, Stevie Wonder, George Benson and Dangelo as having the biggest impact on him in his early years. His debut Album "All in a Day" is due for release this October on the prestigious Sonar Kollektiv label. He debuted his full live show in the Bodytonic Arena at this years Electric Picnic Festival. You can listen to tracks from his forthcoming album and watch footage of his electric picnic performance at www.myspace.com/steedownesmusic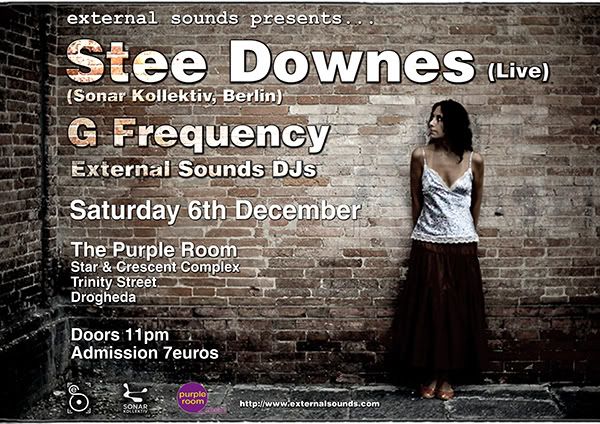 The External Sounds djs will be playing at Bodytonics 'Scribble' night at The Bernard Shaw, Dublin on Friday 7th of November. Scribble is one of Bodytonics record labels as well as hosting a weekly residency at the Bernard Shaw.The music policy is an eclectic mix of Funk, Soul, Reggae, House, Latin, Hip-hop and Dub-reggae. Acts that have played at Scribble include Greg Wilson, TrusMe, Bugz in the attic, Fat Freddys Drop, Dublex inc, Dj Premier, Andy Smith, Mr Scruff and Dj Yoda.
The night kicks off at 9pm and finishes up a 1am. Admission is FREE. We will running a bus up to the event. Anybody interested in booking a seat on the bus, please email your name to info@externalsounds. For more information on The Bernard Shaw, Scribble & Bodytonic check out www.bodytonicmusic.com/about/bshaw
DIGITAL CIRCUS aka The Brothers Flynn Ronán & Colin aka THE FLYNN BROTHERS FLYING CIRCUS have been making music and gigging together for almost two years and in this short space of time have established themselves as ones to watch on the Irish scene, largely due to their melodic, synth fueled brand of music coupled with their energetic live show.
Musically its difficult to put a finger on their sound but think Vince Clarke, Metro Area, Tiefschwarz, Basement Jaxx, Silver City, Rick James, Mr Flaggio, Gary Numan, Daft Punk, Hot Chip, LCD Soundsystem, Spirit Catcher, Patrick Cowley & Giorgio Moroder, M&G all thrown into a dancefloor friendly whirlwind of disco-funk-synthdriven-house&techno and you'll get an idea of what they're about, well kind of!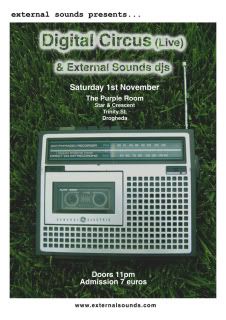 On Sunday October 5th External Sounds will be putting on the first of their new monthly 'Sunday Social' events. It takes place in the Purple Room @ The Star & Crescent Bar, Drogheda on the first Sunday of each month. The idea is to create a friendly and relaxed atmosphere to spend your Sunday afternoon. Whether your trying to recover from the night before or just making the most of the last day of the weekend, The Sunday Social is the place to be.
The External Sounds djs along with special guests will be playing the perfect soundtrack for those lazy Sunday afternoons. If the Music isn't enough to entertain you, we will also be providing newspapers, magazines and boardgames for your amusement. Tea, coffee and snacks will be available from the bar as well as special drinks promotions.
Admission is free and doors open from 4pm till late.
The Fatty Fatty djs aka Pablo, Tomo and Nick will be making the short trip from Dublin to The Purple Room to play October's External Sounds. 'Fatty Fatty' is a weekly night in The Bull & Castle in Christchurch, Dublin. The music policy at Fatty Fatty is very simple - music with funk and feeling from whatever genre - if it's got a groove to make you move, it goes in their bag. This policy has led to El Tomo and Pablo nabbing high profile support slots to the likes of George Clinton and the P-Funk Allstars, Aim, Metro Area and DJ Cosmo. The External Sounds djs played a memorable guest performance at 'Fatty Fatty' last March, while dj Pablo had the External Sounds tent rocking on the Saturday night at this years Electric Picnic. They recently recorded a mix for our website which you can listen to here
The tents are all down, the grass stains wash out of the clothes and Electric Picnic 2008 now sits happily in the memories. For all of the External Sounds Crew it was an amazing experience that was very surreal at times, but one that will never be forgotten. It was a long and emotional journey from last February when we first sat down and discussed the idea of hosting a tent at the electric picnic, to that happy and at times crazy weekend in Stradbally.
We have to thank a lot of people that made it all possible. Firstly a big thank you to Avril & Freddie @ Body & Soul for giving us the opportunity to host our own tent. Thanks to Amy @ Carpe Diem for the tent, Fluffy Mafia for the Tent decoration and lighting, Lynda for the use of the PA, all the artist and performers that played over the weekend, and final a massive thank you to everyone that came along to the tent over the weekend. It was an amazing atmosphere from the start of the day to the very end of each night.
We have all the music from the tent recorded and will be posting up some of the sets from over the weekend, shortly. We will also be compiling a short film from footage recorded in and around the tent over the weekend. For those lucky enough to have recieved an External Sounds lucky bag, a track-listing for the External Sounds Dj mix CD can be found here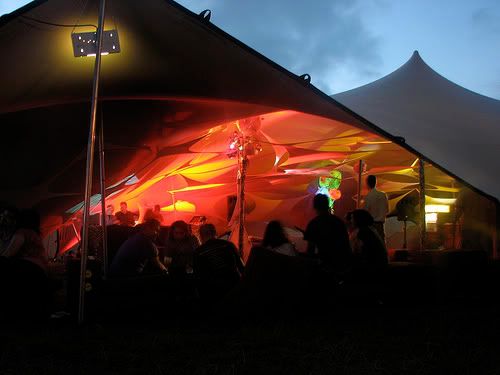 Artists confirmed for External Sounds at Electric Picnic:
Andy Doyle (Lunar Disco)
Copious (Live)
Derek Hicks (NYC)
Dj Yeohs
Durty Vandal
Enda Reilly (Live)
External Sounds djs
Fatty Fatty djs (Downtown Sounds)
G Frequency (Scribble/Bodytonic)
Iain Earle (Rhythmatix, Manchester)
Lindsay Todd (Firecrack Recordings, Scotland)
Qmusic (Live)
Steve Downes (4Play)
Tadhg Murphy
Tom Beary (Scribble/bodytonic)
Also:
EQ Audio Visuals
The Afternoon Play
Cinema
External Sounds are delighted to announce that we will be hosting our own tent at this years Electric Picnic festival which, takes place at Stradbally Hall, Co Laois, from 29th – 31st August 2008. The tent will be located in the beautiful Body & Soul Area of the festival and will be a lavishly decorated performance area with relaxation and comfort going hand in hand with the musical line up.
The Body & Soul Area for those that don't know is an amazing area within the Festival site, that's filled with beauty, art, performance, cutting edge theatre, holistic therapies, green workshops, sumptuous gardens, tipis & log fires, ambient bean bag lounging, acoustic vibes, night time installations, skilled artisans set free across the landscape to inspire and be inspired, an eclectically programmed chill stage featuring the best in folk, world, classical, electronic, reggae, roots and hip wiggling funk.
External Sounds will be supplying the performers for the tent for the whole weekend. The line up will be a mix of djs, musicians, live theater, and visuals.
More information regarding performers and line up to be announced soon.
This month External Sounds is bringing a bit of the Big Apple to the Purple Room, in the form of New York dj Derek Hicks. Derek hails from Brooklyn NY, and has just recently moved to Ireland. He cut his dj teeth on the New York free party scene many years ago and since then has played his trade at many different New York clubs, sounds systems and festivals, as well as managing Satellite Records in the city. He started one of New York's first 'dubstep' nights a couple of years ago but doesn't like to be pigeon holed into one particular type of musical style. "I like to play lots of different styles, but have a sweet funky disco fetish" says Derek. "My sets can range from hip hop to deep disco to dancehall to techno. I'll be bringing some hot electro, 80s boogie and lazer crunk for the peeps at the next External Sounds jam." Derek recently recorded a set for us, so if you would like a sneak preview of what to expect from him, check out his mix here
The External Sounds resident djs are joined this month by Drogheda dj Dom Wilton. Dom brings his many years of dj experience to the External Sounds dance floor. Dom has dj'ed in some of Drogheda's most musically influential clubs like the legendary 'Boxing Club', 'The Subway' and 'Bogarts'. He along with Paddy Connor also held down a long and very successful residency at the now closed Drogheda musice venue 'Solas'.
Also playing on the night is External Sounds regulars 'Qmusic'. Qmusic mash up many different musical styles live, using turntables, Ableton, MPC Samplers and fx consoles. They will be playing a brand new set with a few new and very special elements that they are keeping quiet about until the night.
The night kicks off at 11pm and runs till late.
Admission is 6 euros with a flyer or 7 without
External Sounds is back on Sunday 1st of June @ The Purple Room, Fairgreen, Drogheda. This months headliner is Loop maestro 'Kev Sheridan'. Kev is the drummer with Drogheda rock outfit Geriko, and has been doing his solo performances for almost two years. He uses of a guitar pedal to record and loop live sounds from many different instruments, including, bongos, bass, keys and a cowbell to name but a few. His style is similar to acclaimed solo performer Xavier Rudd. If you haven't seen Kev performaning before, you are in for a real treat.
Our guest performer is Birmingham native Stuart Rathborne. Stuart will be serving up a set of the finest jazzy Drum and Base around to keep you dancing into the wee small hours. As ever the External Sounds djs will be on hand to fill in the musical gaps. The night kicks off at 10pm and admission is 6 euros with a flyer or 7 euros without.